The Drones Club 5th birthday party – 18 July 2009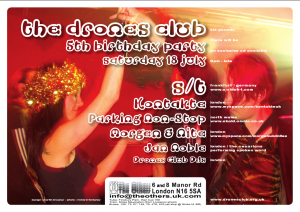 Saturday 18 July – DRONES CLUB 5th birthday party
The Drones Club celebrates five years of harmonic jollity and melodic drones with a party headlined by our all-time most-featured live act, the incredible S/T who promise yet another 2-3 hour psychedelic set you won't be able to dance away from.
Also playing are London's mellifluous road-movie soundtrackers Kontakte, Parking Non-Stop from North Wales (featuring Alan from Ectogram and Zoë Skoulding) who combine environmental recordings with flowing motorik rhythms, a specially sharp-suited spoken word set from Jan Noble of The Cesarians, and a dance piece performed by Tania Salmen.
(Unfortunately, the ecstatic longform drones of Morgen Und Nite will not now be appearing on 18 July)
£6 on the door, 8pm-late – exclusive CD to be available on the night too, and with a fully tripped-out lightshow from Lightning Rod of Bubble Vision and the warped visuals of Yesca plus guest DJ Marcelo Madrid of the Kosmische Club.
The Others, 6-8 Manor road London N16 5SA.
Then the Drones Club will be taking part in the N16 Fringe Festival 2009 on Friday 21 August at The Others. Confirmed so far are Dethscalator and Die Munch Maschine.