50 and Up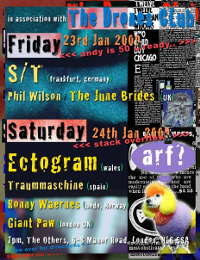 On 23-24 January 2009, the Drones Club hosted two evenings of avantgarde soundscapes, psychedelic space pop and motorik rhythms at The Others. Acts appearing wereS/T (Germany) and Phil Wilson/The June Brides (UK; on Friday 23 Jan)  followed by The Little Theatre Of Dolls puppet show, Giant Paw (London), Ronny Wærnes (Norge), Traummaschine with special guest Geoff Leigh of Henry Cow (España/UK) and Ectogram(Cymru) on Saturday 24 January.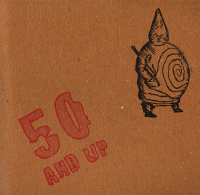 An exclusive CD compilation titled 50 & Up was launched at the event to mark the mini-festival.
Please email  50andup AT dronesclub.org.uk for information on how to to buy the CD, or click the Buy Now button below. Almost all the tracks are exclusive to the compilation.
The tracklisting is as follows:
Phil Wilson (UK) : Heroes (4:10)
Giant Paw (UK) : Tea on the Lawn (6:41)
The Grand Erector (UK) : The King Edward's Monkey Parade [Krapp's Edit] (6:23)
Ectogram (Wales) : Dancing at Sparrows (4:17)
S/T (Germany) : Die kurze Wiederholung (6:49)
Faust (DMZ) : Je Suis Malade (5:53)
Phil Wilson (UK) : Psycho Killer (3:40)
Traummaschine (Spain) : Die Kosmische Sache (21:06)
Ronny Wærnes (Norway) : Andy's Party 5 (4:48)
The CD is available for £10 with postage and packing at the following rates:
50p UK

£1 Europe

£2 rest of the world
Click the button below to buy securely with PayPal (you do not need a PayPal account)

Choose delivery to UK/EUR/ROW